Ether investors got a reprieve Thursday when a top U.S. regulator said transactions involving the token aren't subject to federal securities rules, ending months of speculation that had weighed on the second-most valuable digital currency. Ether and other coins surged on the news.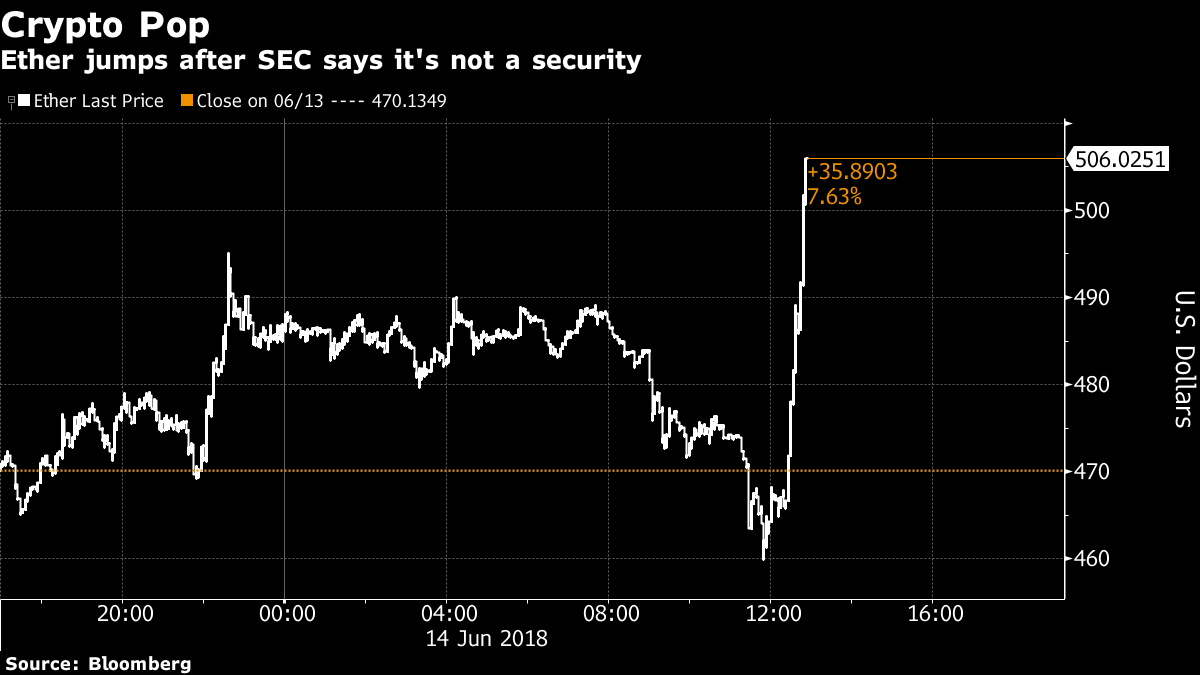 "Putting aside the fundraising that accompanied the creation of Ether, based on my understanding of the present state of Ether, the Ethereum network and its decentralized structure, current offers and sales of Ether are not securities transactions," William Hinman, who heads the Securities and Exchange Commission's division of corporation finance, said in remarks prepared for a Yahoo Finance conference in San Francisco. "And, as with Bitcoin, applying the disclosure regime of the federal securities laws to current transactions in Ether would seem to add little value."
Ether rose 10 percent to $518.94 at 4:15 p.m. in New York. Bitcoin, the most valuable digital token, jumped 5.9 percent to $6,630.73 in its biggest rally in over a month.
Crypto enthusiasts have long worried that the SEC would crack down on Ether, which was originally offered in 2014 by the Ethereum Foundation, a Swiss nonprofit. It's now widely used in new crypto projects across the globe and some worried that if the regulator subjected it to securities rules that those efforts would have been disrupted.

U.S. Crypto Regulatory Fight Has Everything But Rules: QuickTake
While the SEC has previously signaled that it didn't consider Bitcoin a security, it had been mum on other cryptocurrencies. Concern in particular had mounted around Ether due to its widespread use and because the Ethereum Foundation initially sold it in a manner that some in the financial industry have said resembled securities offerings.
In his speech, Hinman said it's possible for a cryptocurrency to begin as a security and then transform into another type of asset.
"What about cases where there is no longer any central enterprise being invested in or where the digital asset is sold only to be used to purchase a good or service available through the network on which it was created?" Hinman said. "I believe in these cases the answer is a qualified 'yes.' "
Cboe Global Markets Inc. President Chris Concannon said the SEC's decision could increase the chances that regulators will sign off on Ether futures. Cboe and CME Group Inc. begin offering Bitcoin futures last year.
"We are pleased with the SEC's decision to provide clarity with respect to current Ether transactions," Concannon said in a statement. "This announcement clears a key stumbling block for Ether futures, the case for which we've been considering since we launched the first Bitcoin futures in December 2017."
Ripple's XRP token, the third most valuable digital coin, also rose Thursday even though Hinman's comments suggest the SEC might deem it subject to the agency's rules. While Ripple has said in the past that XRP tokens aren't securities, some believe that the company's centralized nature and control over the coins could put it under the SEC's jurisdiction. XRP rose 7.4 percent to 56 cents.
"Is there a person or group that has sponsored or promoted the creation and sale of the digital asset, the efforts of whom play a significant role in the development and maintenance of the assets and its potential increase in value?" Hinman asked. If so, it might be a security, according to Hinman, who didn't mention Ripple or XRP by name.

Read More: Ripple Is Said to Struggle to Buy U.S. Listing for Popular Coin
"We are pleased that the SEC has announced that it does not view Ether as a security," Ripple spokesman Tom Channick said in an emailed statement. "We believe that XRP likewise should not be classified as a security and look forward to confirmation from the SEC."
Hinman made clear in his speech that the SEC hasn't changed its view on initial coin offerings, in which companies raise money through sales of digital tokens. SEC officials have consistently argued that ICOs are security offerings, much like stock sales, that should be registered with the regulator.
"Simply labeling a digital asset a utility token does not turn the asset into something that is not a security," Hinman said.
— With assistance by Matthew Leising
(Adds Ripple statement in 12th paragraph.)